HAZARDOUS WASTE
Hazardous wastes have properties or contain chemicals which make them dangerous or capable of having harmful effects on public health or on the environment. The hazardous properties include whether or not the waste is ignitable, corrosive, reactive, or toxic. A hazardous waste is considered to have been "generated" when it is put into a container for disposal or a determination has been made that the material is no longer usable. Hazardous wastes managed in the course of running a business – this includes wastes from municipalities and from businesses operated out of a home – are regulated by the Vermont Hazardous Waste Management Regulations (VHWMR).
Environmental Assistance
The Environmental Assistance Office is a partnership of staff focused primarily on non-regulatory programs. The Office provides guidance to permit applicants, offers environmental compliance assistance to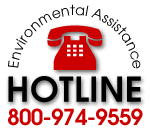 Vermont businesses and municipalities, provides recognition programs for green businesses in Vermont, and provides assistance to municipal household hazardous waste programs. Staff assists businesses, communities, state agencies, and others to identify effective and economical ways to reduce waste at the source in order to avoid waste treatment and disposal costs and to safeguard human health and the environment.  Regional staff provide permit assistance with DEC programs and others.
RACKCARD-VT HazWasteBusiness_v02